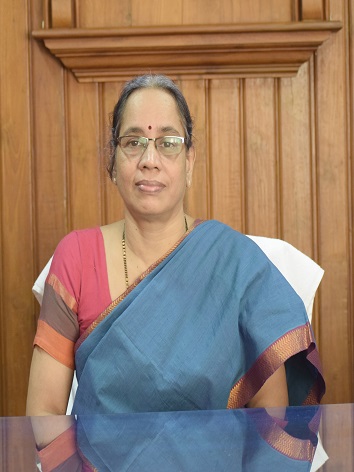 Dr. K. Muthulekshmi
Dr.K.Muthulekshmi served as Professor and Head of the Department of Sanskrit Vedanta in Sree Sankaracharya University of Sanskrit before she assumed charge of Pro Vice Chancellor of the University. She has also served as Dean of Faculty of Indian Metaphysics of SSUS. From 2018 onwards, she has been working as the Director of Research& Development Cell of SSUS.
Dr.K.Muthulekshmi has presented papers in various National/ International seminars/conferences including World Sanskrit Conference 2023 and those organized by different institutions like Kendra Sahitya Akademi, New Delhi, University of Hyderabad, French Institute Of Indology, Pondicherry, University of Goa, Benares Hindu University and IIAS Simla. She visited and engaged classes in Department of Sanskrit , Calcutta University in 2009 for a two-week long Teacher Exchange Programme under the auspicious of Kerala State Higher Education Council. She has worked in association with SCERT, Kerala for developing Sanskrit textbooks for High School students.
Dr.K.Muthulekshmi was awarded Kerala Sahitya Akademi award for translation in 2008. Her translations include Charakapaithrukam, Susrutapaithrkam and Advaitam-Atmadarsanathinte porul .She has co-edited the book Interpretation-Form and Function in Sanskrit knowledge systems with Dr.S.Sobhana and Dr.G.Narayanan,. Advaitaritisastravichara ( Sanskrit) is her work on Advaitic methodology. Another work edited by her is Ahamaushadham ( Compilation of articles on Bhagavadgita by K.Raghavan Thirumulpad) and co-edited work ( with Dr.M.V.Muralikrishnan) is Poornatha Gauravaya.( Biography and articles of Dr.K.Vijayan). Her research articles have been published in various journals and books published by reputed academic institutions including National Manuscripts Mission, New Delhi, Rashtriya Sanskrtha Vidyapitham, Tirupati and Chinmaya International Shodha Samsthan. She is member of editorial board of Research Journal Kiranavali (published by Sanskrit Research Foundation, Trivandrum) which is approved by UGC. She serves as member of Board of Studies of Sanskrit, Madurai Kamaraj University and various universities in Kerala.
Philosophical traditions in Sanskrit, Intellectual and cultural aspects of Kerala lineages of Sanskrit tradition, Pedagogical traditions in Sanskrit, Conceptual and methodological approaches in Sanskrit Sastra traditions and translation are important areas Dr. Muthulekshmi has been working on.